Copyright 2019 Electrical101.com All Rights Reserved.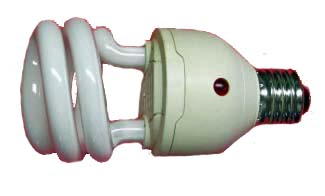 Photocells and timers are switches that turn on and off automatically. Photocells are commonly used to control lighting. Timers are used to control fans, water pumps, irrigation controls, etc.
Photocells and timers have a wattage rating. Do not exceed the wattage rating for the load on these switches. You can use the dimmer wattage rating instructions for calculating the wattage rating of photocells and other types of switches.
Photocells
Photocells are a type of switch used to automatically turn on in the morning (sunrise) and turn off at night (sunset). They are most commonly used to control lighting. Photocells are better than time switches for lighting because of the variations in time of sunrise and sunset.
Most new photocells are compatible with CFLs (check the package of the photocell for compatibility). Some CFLs are available with built-in photocells, but will not work in recessed (can) lights.
Some photocells screw into a socket in a light fixture and a bulb screws into the photocell.
CFL with Built-in Photocell
Photocell Operates Porch Light
Time Clocks
A time clock is a type of switch used to turn on and off according to specific times of day or for a certain amount of time. Time clocks are commonly used for irrigation systems.
A time switch has a built-in clock. Specific times of day and days of the week can be set to turn a load on and off. They can be set to turn on at specific times and turn off at specific times or after a certain amount of time (turn on at 8:00 AM, off at 5:00 PM), (turn on at 8:00 AM, off after a certain time period).

Light Bulb in Photocell Socket
Timer Switches
A timer can be set to turn on for a certain amount of time and then turn off automatically when the time period had been reached. This type of timer does not repeat, it is turned on once and turned off once.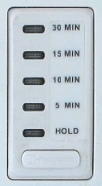 Photocell and Timer Wiring
Photocell and timer switch wires each have a line (black), load (red), neutral (white), and ground (green).
The black line wire connects to line voltage from the panel, the red load wire connects to the light(s), the white neutral wire connects to the neutral wires of the circuit.
The green ground wire is connected to the other grounds inside the electrical box.
Ground connection diagram is shown separately.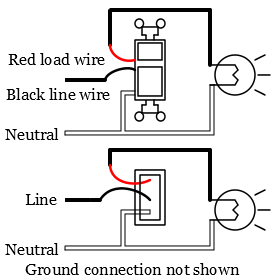 Photocell and Timer Wiring Diagram 1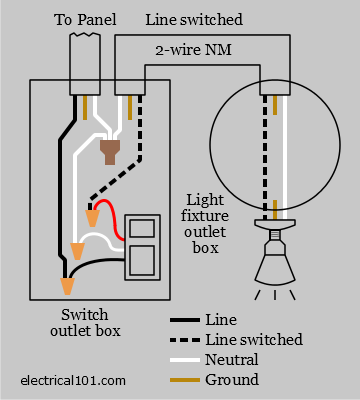 Photocell and Timer Wiring Diagram 2